Cassava – The potato of the tropics as best alternative during global climate change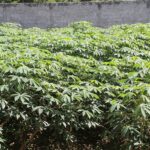 Interview with Kingsley Kelechi Ekwueme, Managing Director of GrowExpress Ltd, about the miracle tuber cassava, which defies weather conditions in Africa.
Weather conditions such as drought, nutrient-poor soils and irregular rainy seasons are familiar conditions that farmers around the world have had to deal with for centuries, including in Africa. But while many familiar crops lose out, the miracle tuber cassava seems to defy all climatic conditions.
The inconspicuous root tubers, wooden and dark brown on the outside, light to reddish on the inside, usually taste sweetish, some bitter. Cassava is grown all over the world, but it is of great nutritional importance in Africa. Nigeria's farmers are the absolute leaders.
Kingsley Kelechi Ekwueme of GrowExpress on this "Cassava is a wonderful crop that can withstand heat and drought, and needs little or no fertilizer to grow." And if that's not enough cassava also enriches the soil with nutrients, "It allows us to plan ideal crop rotations on the former cassava fields and plant millet and maize. In these season's we use as GrowExpress no additional fertilizer and save thus substantially natural resources. The basis was the leftover of cassava roots and cassava leaves which are rich enough," Kingsley told us.
Super root cassava
Climate scientists have also taken notice of the tuber. Scientists at the International Center for Tropical Agriculture in Colombia tested how cassava responds to climate change. That's because sub-Saharan Africa is expected to get up to two degrees Celsius warmer by 2030. "We found that cassava continues to prove resilient and can handle almost any climatic condition. That's why we call it the Rambo root," says climate scientist Andy Jarvis.
Many other scientists also tested how other staple crops cope with climate changes. Compared to corn, potatoes, beans, bananas and millet, cassava fared best in all tests. "The big advantage of cassava is that it doesn't die even during long droughts," Jarvis says of the hardy root. "It just shuts down its activity until the next rain comes." That the plant is so climate-resistant may be due to its origins. It originated in very dry and hot regions of South America and was brought to Africa by the Portuguese in the 16th century. Worldwide, more than 1 billion people now eat cassava every day. On the African continent, it is the most important source of energy along with corn.
Greater potential suspected
Because cassava has not been studied as extensively as other staple foods, scientists hope to further boost cassava research through continued discoveries. For example, they say, cassava can be developed even further through crossbreeding. "There is also an attempt to increase the nutritional value of cassava so that it can provide an even better nutritional base," explains climate scientist Andy Jarvis.
Nigeria promotes cassava consumption
But this would also require a further change in the way Africans grow and eat cassava. In Nigeria, the root is grown mainly for subsistence but is increasingly playing a major role in the economy as a whole.
This was pushed by several previous presidents, Obasanjo and Goodluck Jonathan, and has been consistently promoted and accelerated by the current incumbent, President Muhammadu Buhari.
The government in Abuja encourages bread producers who use at least 40 percent cassava flour with tax cuts. In this way, it also wants to become less dependent on expensive wheat and rice imports from abroad.
GrowExpress implements it sustainably on farms
The farms of GrowExpress feel this permanent high demand and see themselves confirmed in the long term that their scientifically based farm concept is economically and ecologically sustainable. This uses the state institutions such as local seed banks, agricultural cooperatives and the already existing cultivation and trade structures to implement the specially developed BLOCK FARMING model. This is a modern agronomic hybrid model of smallholder and commercial farm models.
It benefits on the one hand from the management competence and economies of scale of a large farm and on the other hand from the optimized land use and productivity of the small farmers.
In practice, this means that cassava, millet and maize are cultivated together in a large-scale block farming system, which is accompanied by the smallholders from preparation to harvest. The farmers receive a continuous transfer of knowledge and participate in the economic success.
Especially in the areas of irrigation, multi-field management, fertilizer and the use of modern seeds, smallholder farming of individual families still have a great need for knowledge.
The contact persons are often the women, mostly single parents, who keep the families and thus the rural village structures together and thus ensure family cohesion.
The land provided for GrowExpress by the state local governments has mostly not been cultivated for more than 70 years and, after thorough soil analysis and clearing of ecologically non-valuable bush land, is operated very sustainably with locally adapted crop rotations and adapted mechanization methods. The responsible persons of the Nigerian state support the farm project and fixed purchase contracts have been concluded, so that the economic dimension of agriculture is secured.
Responsible in the sense of the press law:
Thomas Wegener
CEO GrowExpress Ltd.
Company Description:
GrowExpress Ltd office is located in Nigeria, Cocoa House, Dugbe, 200263 Ibadan. Completed in 1965 at a height of 105 meters, Cocoa House was once the tallest building in Nigeria and the first skyscraper in West Africa. It is located in Dugbe, one of the main commercial areas in Ibadan, Oyo State, Nigeria. The GrowExpress Ltd. company farms an estate of 800 hectares about 200 km north of the megacity of Lagos, Nigeria. For more information, visit: https://growexpress.org
PRESSEKONTAKT
GrowExpress Limited
Kingsley Ekwueme – Managing Director
Cocoa House, Dugbe
200263 Ibadan, Nigeria
Website: https://growexpress.org
E-Mail : AtYourService@growexpress.biz
Telefon: +234 7031135981