Slovenia: The wine gourmets and their legal system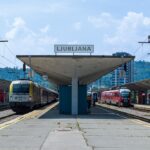 In conversation with Mitja Vidmar, a lawyer from Ljubljana, Slovenia, about his experiences in the legal industry, globalization and advice for law students.
ABOWI in Ljubljana in Slovenia, which is located in Central Eastern Europe, bordering Austria, Italy, Croatia and Hungary. A former part of Yugoslavia, Slovenia has been an independent republic since 1991. In 2004, Slovenia became a member of the European Union and is the richest country among the former members of Yugoslavia. Also according to the UN, Slovenia has a high Human Development Index, which takes into account the wealth of its inhabitants, life expectancy, education, etc.
ABOWI is an interview project with 197 lawyers from 197 countries of the world. Talking about the changes in the legal world due to globalization and digitalization, the daily practice of law in different countries, and advice for law students. As a law student, I wanted to explore how different cultures influence the legal practice of international lawyers.
Josefine Antonia Schulte: Please introduce yourself briefly: Name, age, background, and how long have you been practicing law?
Mitja Vidmar, 54 years, origin: Slovenia, practicing law since 1991
Josefine Antonia Schulte: What made you decide to become a lawyer in the first place, or does your home country perhaps have something to do with it?
Mitja Vidmar: It was more of a coincidence. When I was 18, I didn't know what to do professionally because I found other aspects of life more interesting. I tried to study art, but was not admitted. A friend recommended that I study law, so I went and soon started to like it.
Josefine Antonia Schulte: What is your focus in your studies?
Mitja Vidmar: Economics/finance.
Josefine Antonia Schulte: What is the social recognition of a career in law? In Germany, lawyers are very respected.
Mitja Vidmar: It's similar here, except that according to our local stereotype, a lawyer is not exactly likeable as a person either, and his main goal seems to be to make life unbearably complicated for everyone else.
Josefine Antonia Schulte: What challenges do you face every day as a lawyer?
Mitja Vidmar:

No. 1: Dealing with other lawyers who disagree with my views or simply don't want to understand them.
No. 2: Trying to keep up with changing legislation, especially at the EU level.
No. 3: making sure my clients don't have unreasonable expectations without hurting them too much.
Josefine Antonia Schulte: You are a local lawyer, but at the same time you live in a globalized world. What is it like working with lawyers and clients outside the country?
Mitja Vidmar: Almost 50 percent of our clients come from other countries. Many of our Slovenian clients need assistance abroad, so we help them find and hire reputable lawyers in other countries and coordinate their activities with us.
Josefine Antonia Schulte: How international are the lawyers in your country in terms of language?
Mitja Vidmar: Most lawyers (as well as other people) in Slovenia speak at least one foreign language fluently. Most speak English and/or Serbian/Croatian, many also speak German, Italian, French, Russian, Spanish, etc.
Josefine Antonia Schulte: In your experience, how high is the demand for international cases and clients?
Mitja Vidmar: In the area of business and finance, many cases have an international connection.
Josefine Antonia Schulte: What kind of legal advice is particularly in demand among your international clients?
Mitja Vidmar: This can best be described as: ensuring that international transactions involving parties or assets located in Slovenia are legal under Slovenian law and have the desired effects.
Josefine Antonia Schulte: How do you see the global market in the future, in Germany you have to specialize in a certain area of law at some point in your studies, do you think it makes sense to specialize in international law?
Mitja Vidmar: As the world becomes more complex and over-regulated, it is not possible for a person to be up to date in all areas of law. There has always been some specialization (criminal lawyers vs. civil lawyers, etc.), but the fields of specialization are becoming narrower and narrower. At the same time, rules in these narrow areas of law are being harmonized between countries (especially at the EU/EEA level). This benefits larger multinational law firms that can afford to employ specialists in multiple areas of law. The only way for independent local law firms to compete in such a market is to maintain links with similar law firms in other countries and form ad hoc teams depending on the needs of their clients.
If you mean specializing in public international law, I'm not really familiar with the career opportunities in that area. But if you meant just international networking, it is not only useful but even necessary in today's world if you don't want to limit yourself to the domestic pond.
Josefine Antonia Schulte: Our last question is about a certain law that everyone on the Internet is asking whether it even exists and, if so, what it means. Is it okay to eat or drink while driving? And what about compliance with this extraordinary law?
Mitja Vidmar: I think it's legal as long as you don't get caught? Anyway, I don't think anybody is complying with this.
I would like to thank my interviewee Attorney Mitja Vidmar for taking the time to answer my questions. For his valuable advice to law students and those interested in law school about the specialization required in law school. I find his perspective as a Slovenian, but also European, lawyer in a relatively small country particularly interesting. His daily challenges include the risk of miscommunication with clients and unrealistic expectations of lawyers.
The perspective of different lawyers from different countries continues to be super interesting to me, the journey continues, look forward to my next interview!
V.i.S.d.P.:
stud. iur. Josefine Antonia Schulte
josefine.schulte@dr-schulte.de
direct dial: 030-221922040
Contact:
Dr. Schulte Attorney at Law
Malteserstrasse 170
12277 Berlin
Phone: +49 30 22 19 220 20
Fax. +49 30 22 19 220 21
Email: dr.schulte@dr-schulte.de
https://www.dr-schulte.de
About ABOWI:
Across Borders With Information – ABOWI, an interview series by Josefine Schulte Law student from Berlin in Germany. Questions and Answers: A journey around the world revealing differences and prejudices. What moves the lawyers of this earth, Josefine Schulte asks herself from Azerbaijan to Cyprus.
PRESSEKONTAKT
Dr. Schulte Rechtsanwalt
Dr. Thomas Schulte
Malteserstrasse 170
12277 Berlin
Website: https://www.dr-schulte.de
E-Mail : dr.schulte@dr-schulte.de
Telefon: 030 22 19 220 20
Telefax: 030 22 19 220 21